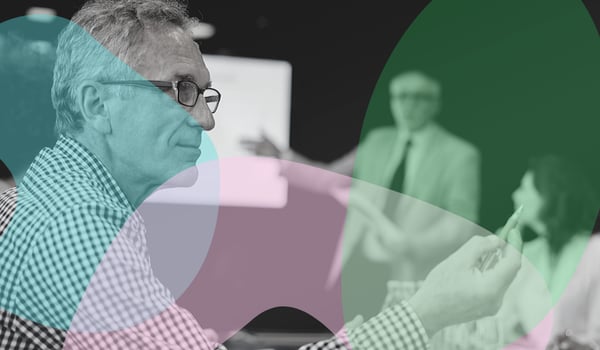 This blog post is the first in a new series dedicated to B2B marketing. The series dives into essential topics of digital marketing and lead generation for businesses selling to other businesses.
The way that a Fortune 500 business buys project management software for their employees is deceptively simple.
The final decision and signing of the agreement is just the tip of the iceberg and the outcome depends on a lot of hard work by marketers and salespeople in the background, often for months on end.
It also differs from what a 20-person scale-up goes through when it invests in a SaaS that enables them to grow.
How does the buyer go from becoming aware of a certain pain (e.g. need to better manage projects) to considering different solutions to committing to a contract with the provider?
Who is involved in decision making? What influences their final choice?
How many touch-points should there be between the provider and the potential customer?
These questions, plus others, are the backbone of every sound B2B marketing strategy.
Let's dive into the essentials of B2B marketing.
From this article you'll learn:
B2B marketing, what does it mean?
Business-to-business (B2B) marketing refers to all marketing activities directed towards another business or organization.
It's the sum of everything a company does to help stakeholders in other companies transition from being total strangers to discovering the value of their offerings and becoming their customers.
Unlike B2C (business-to-consumer) marketing, where the audience is the end-user, B2B marketing is focused on different decision-makers within a company (or the ones influencing them) regarding the purchase of a solution.
When an organization offers products or services to other businesses they use some form of B2B marketing.
As a B2B marketer, you'll face challenges when it comes to developing a marketing strategy. To name a few:
Longer sales processes as businesses usually involve more stakeholders in the decision-making process
The specific way people move through the funnel can be quite different from one industry to another and one niche to another
The resistance to change can be present in many organizations
The 'What' before The 'How'
When building an effective B2B marketing plan, many businesses fall into the trap of thinking in terms of tactics that they see other businesses use or they have heard of. This typically results in a non-strategic approach too focused on buzzwords and checking boxes.
This can be seen many times in a content 'strategy' that revolves solely around company news or a homepage that lacks a variety of calls-to-action (typically just 'contact us') - if it has them at all.
To truly be strategic about how you market to other organizations, start with your business goals:
What are we actually trying to achieve?
What are our business goals for revenue growth and customer acquisition?
How many new customers do we need to acquire this month/quarter/year to get there?
What part of my marketing funnel do I need to work on to achieve these targets?
Start with your revenue or customer acquisition goals and work backwards from them. Only when you have an idea of what your targets are, can you start thinking of how you will reach them.
Is your problem an insufficient number of visitors on your website? If so, you may need to conduct a content audit and change your SEO practices.
Is your landing page conversion rate abysmally low? You might need to invest resources into actively iterating the page until you see an improvement.
How many people book a demo at the end of your marketing automation sequence? If the answer is not many, check if you're giving proving enough value throughout the sequence or making it easy to book a time that's convenient to them.
Another big part of creating your marketing strategy will be how your buyer persona moves from experiencing pain to identifying that they have one to actively researching possible solutions and finally to decide on the provider and a partner that will help them solve it.
Prospects behave differently depending on which stage of the journey they're at. In practice, it means that even if a potential customer lands on your website, he might not be ready to buy from you right away.
But two, three or six months from now they might. And once they are ready, you want to be the natural first partner to seek help from.
There are a few key ingredients to every winning B2B marketing strategy:
1. Creating buyer personas
When preparing a marketing strategy, you don't craft your strategy to market to 'businesses'. You have in mind specific people or roles within the company that have decision-making power (eg. marketing manager, managing director).
A buyer persona is a semi-fictional representation of your ideal customer. It's based on real data about your existing customers you get from serving them and from their feedback.
Even if you're just starting out, there is no better basis for a good buyer persona profile than picking up the phone and talking to people in the vertical you're focusing on.
A good buyer persona will include demographics, technographic, psychographic data but perhaps the most important ingredients will be:
Their goals
Their challenges
What your company can do to to help them
2. Full-funnel perspective
Once you have a solid ground on your ideal buyers, you are able to determine how and where your potential clients can find you. It works both ways - on the one hand, you need to choose the right channels to amplify your messaging wherever your potential customers are spending their time (e.g. social channels).
On the other hand, if you produce interesting content that addresses their needs, they can more easily find you and once they land on your website, you need to give them a reason to stay and – unless they are ready to see a demo or buy – show them how to do their jobs better or solve their problem on their own.
Once you've converted your visitors into leads through valuable content or demos, you need to follow-up and nurture them. This is so your sales teams can more easily close deals by focusing on the most engaged leads.
Approaching the three stages in the funnel with different tactics – SEO, content offers, landing pages, marketing automation and more, helps you build a coherent journey for your ideal customers and move them towards the sale more predictably.
3. Continuous improvement approach
As a marketer, you need to think big (to connect all the dots together into a compelling marketing strategy) but act small through persuading smaller experiments, analyzing results, optimizing, and repeating the process.
Iteration is the process of making continuous improvements to your marketing efforts and optimizing them further. Having a B2B marketing strategy in place means an ongoing process of experiments, tests, measurements, improvements and optimizations applied over time and repeating the process.
Even if you're hitting your traffic, lead generation or sales goals, you need to remember that behavior, preferences, and needs evolve over time. Whatever worked for you and your chosen personas this year, might not work in the future.
The same goes for personas: what works for one type of audience now, might not have the same result in a few months, that's why it's so important to regularly update your personas and instead of working on assumptions. That's where iteration comes in.
4. Choosing the right tech stack
As a business grows, it quickly becomes necessary to have one central place where all information goes.
Who are our customers? How did they get in touch with us? What channel impacts our revenue most? What do they read the most? If your sales and marketing team isn't aligned on these and similar questions, your prospects and customers will feel it.
From their perspective, they develop a collaboration with one company, not a set of disconnected departments. Everyone in your team needs to be aware of the customer context, needs, current stage, so they can easily pick up the conversation where it left off or suggest some useful content.
A CRM connects all the information about the visitors, leads, customers together and bridges gaps between marketing and sales that can help you take your organization to the next level. Once a CRM system is set up right and processes are in place, your business will be able to attract the target customers who are the best fit for your business, convert those visitors into engaged leads, and then nurture those leads into sales-ready opportunities.
Additionally, through automating and cutting down on lowest-value tasks that come from automation and apps working in unison, your business can be even more efficient.
5. Was it worth it a.k.a. ROI
To be an effective marketer, you have to be able to connect every lead and customer, to the marketing activities that helped 'create' them. This is the only way to understand what works and what doesn't, as well as how to more efficiently work towards your business goals next time.
Before you even start to market your B2B business, it's important to choose the right KPIs (key performance indicators): metrics that you will use to check your progress. You can't manage what you don't measure.
It's vital that you're able to tie back your revenue and customer acquisition to the marketing activities you implemented. A good CRM that transparently and clearly reports on ROI helps with just that.
__
Based on Hubspot's State of Inbound (2019) the biggest challenge for marketers is to generate leads and more traffic. However, many marketers tend to try different activities without a bigger plan behind, which usually leads them nowhere. While the term "strategy" might seem intimidating, building an effective digital strategy doesn't have to be a struggle. It's important to plan marketing actions with your business context, desired goals, the audience and the cross-funnel approach in mind.
Learn More About B2B Marketing
here